Lifespan Walkstation LT Treadmill Desk
User Friendly Controls
Everything at your finger tips
2.0 CHP EverDrive® Motor
Keeping your treadmill running and running
Nothing will beat EverDrive® in quality and durability.
EverDrive® combines innovative motor engineering technology with the highest quality components to produce a new revolutionary treadmill motor.



Have confidence with a Lifetime Warranty*
AAA grade conductive copper coils and sealed bearings
Silent fan cooled temperature management
Larger motor casing reducing noise and vibration whilst adding stability
Advanced high grade insulation for longevity
Dual carbon brushes
Large Desktop
Fits everything you need
Our Walkstation features a large desktop to hold all of your devices, books, stationary and personal items
Spacious DuraGrip® Running Belt
More room to run
The commercial grade, innovative groove belt which maximizes grip and durability for safe and long lasting high end performance. DuraGrip® belts have anti-static properties and noise reducing material to ensure a pleasant walk, jog or run.
ShockControl™ Cushioning
Takes the shock out of running
With our advanced cushioning system, ShockControl™ suspension provides excellent support and reduces impact on your joints, ankle and feet to keep them well protected for every-day workouts.
Height Adjustable work desk
Suits everyone
Our large desktop can be manually adjusted to suit the height of almost all users between 150cm and 200cm.
HydraAssist® Soft Drop Folding
Fold it up & store it away
Save space with HydraAssist®. HydraAssist® creates a simple and effortless way to fold up your treadmill, and a soft-drop mechanism when unfolding your treadmill. Once folded, our Treadmill features two transportation wheels for easy mobility.
Transportation wheels for easy movement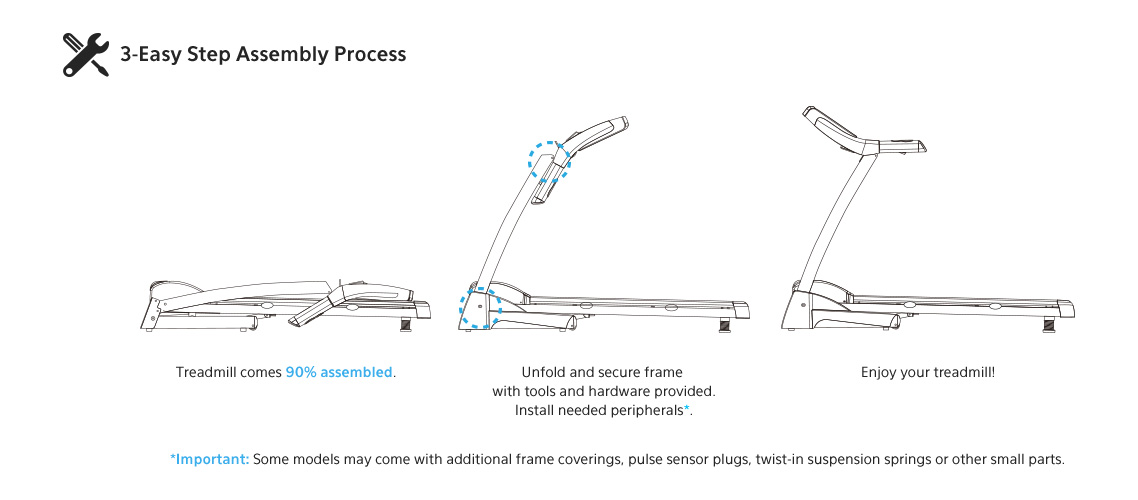 Fitness
Motor
2.0 CHP EverDrive® Motor
Speed
0.8 to 6km/h
Suspension
ShockControl™ Basic Cushioning System
Workout Statistics
Time (min:sec), Speed (kph), Distance (km), Calories (Estimate)
Power Supply
Professional Heavy Duty DC Motor (CE Certified), Designed for Australian Households (Input: 220v - 240v)
Safety Feature
Overload and Short Circuit Protection (CE Certified), Magnetic Safety Key
Console
Compact LCD display
Table Top Size
80cm x 55.2cm x 1.8cm (L x W x T)
Running surface
DuraGrip® AS Belt, 1250mm x 450mm (L x W)
Belt Width
45cm
Programs
12 Preset Programs
Motor Specifications
PWM (Pulse Width Modulation system) with fuseless current limit
Assembly Required
This product comes partially assembled in a box with assembly instructions included.
Maximum Load
120kg
Additional Information
Quick Controls: 2, 4, 6 Preset Speed Buttons
Occupancy size
169.5cm x 80cm x 135cm (L x W x H)
Product Weight
52.5kg
Gross weight
60kg
Packaging Dimensions
172cm x 76cm x 26cm (L x W x H)
Lifespan Lifetime Motor and Frame Warranty
At Lifespan we are dedicated to bringing you high quality treadmills at affordable prices. We guarantee long term high performance from our treadmill range, and so all faulty components will be replaced or supplied free of charge. This policy is only valid for treadmills used in a domestic environment, and will not cover normal wear & tear.
Our Lifetime Warranty policies guarantees on the lifetime of the product on the market. This is considered to be 5 years unless otherwise stated specifically.
Lifespan Lifetime Spin Bike Warranty
Our Spin Bikes come equipped with strong, steel frames that are built to last in a home/domestic environment.
Our Lifetime Warranty policies guarantees on the lifetime of the product on the market. This is considered to be 5 years unless otherwise stated specifically.
12 Months Parts Replacement Warranty
All Lifespan products come with a standard Manufacturer's 12 Months Parts Replacement Warranty
Parts Replacement Policy
All parts replaced within the warranty period are covered for a minimum of 3 months.
All parts replaced outside the warranty period are also covered for a minimum of 3 months.
Personal Injuries/Damage
We also do not cover any personal injuries or damage due to accidents, misuse, neglect, normal wear, improper assembly or improper maintenance.
Some exclusion's do apply see individual user manuals for full warranty information.
How a claim is made
When making a claim, you will need to provide proof of purchase, condition photos of the item. This information is required to be submitted via the support center and communication is made through the support center. When the claim is created, the customer will receive the claim number and the customer support team should reply within 48 hours.
What payment types are accepted?
VISA, MasterCard, American Express, PayPal and GoEasy Gift cards.
Go Easy Bank Transfer Details
Commonwealth Bank
Account name: Go Easy Online
BSB: 063 120
Account Number: 102 44 175
*Please ensure when making payment that the order number is used as the payment reference,
if this is not done delays cam occur in applying payment to your order.
How do I know my card details are secure?
We use Secure Socket Layer (SSL) and payment gateway for all orders placed to ensure the security of your personal card details.
Our secure web pages can be identified by their URL: that begins with 'https://', while standard pages begin with 'http://'.
A padlock or key will also be visible in the bottom right of your web browser.
Go Easy Australia Fraud Protection Security
At Go Easy Australia, we have a fraud protection security procedure in place which may occur to any order placed via our website/s.
Having this in place ensures peace of mind and the highest level of security protection for all our customers who shop with GMX Motorbikes.
A notification email will be sent to you, if your order as become part of this fraud protection security procedure.
Please follow the instructions on the email and call us to get your order processed.
Can I still order online if I don't have a credit card?
Yes, you can use a debit card (VISA or MasterCard) or open a PayPal account or pay via Bank Transfer
How do I get a PayPal account?
Visit the PayPal website www.paypal.com.au and sign-up for an account.